Podcasting is a great way to build a deeper connection with your audience — if you can break through.
Podcasts are a highly contested space in the entertainment world, and it's easy to get lost in the crowd.
There are over 2 million shows across podcasting platforms and around 48 million episodes as of April 2021.
This means you need to work hard and create something really special if you're going to cut through the noise and grow your audience.
Let's dive straight in with five simple but effective tips to grow your podcast audience.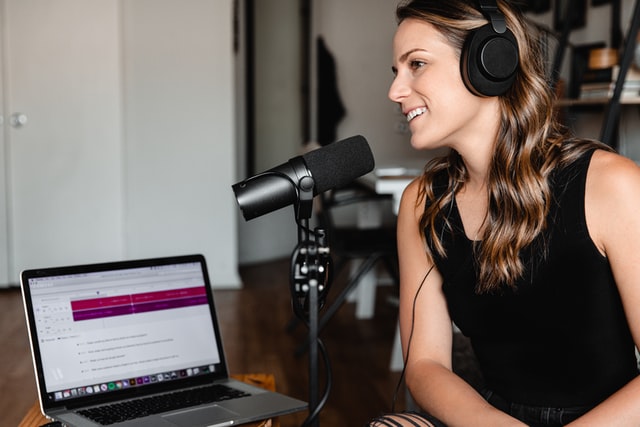 5 tips to grow your podcast and get more podcast listeners
Now, it's worth keeping in mind that the following tips won't get you number one in the podcast charts overnight.
You need to make sure your content is worth listening to first and foremost.
However, by using these little tricks, you can get yourself well on the way to the top of the charts.
Planning is key
There are some podcasters who like to go with the flow and see where it lands them. As you can imagine, these are not successful shows.
The best, most popular shows either follow a strict schedule or at the very least have planned out feature sections or questions for their guests.
This helps to create a flow to your episodes and helps your listeners by letting them know what to expect in the episode.
Pay attention to SEO
SEO stands for Search Engine Optimization. It's essentially how well search engines can see your website and affects where you place in the search results.
It relies on keywords, which means you need to be putting out written content as well as your podcast episodes.
Now, you may wonder why an audio platform needs written content. Isn't the whole point that people want to listen, not read?
SEO relies heavily on keywords. So by publishing a transcript of your episode, you can quickly and easily hit all the keywords you need and people can find you easily.
An additional tip could be to create your own podcast website and share your transcript of all podcasts with a link to an actual podcast on the website.
You can add podcast trailer to hype it even more and promote it across several social media channels. You should have dedicated social media accounts for your podcast audience. Take advantage of the power that social media platforms have.
Tip: Include links to all podcast apps you are present on while building your website.
Partner with similar podcasts
Podcasting doesn't need to be a competitive industry. It's actually far more beneficial to make friends and partner with other podcasters that offer similar content to yours.
This could come in the form of a collaborative episode, or you could guest on each other's podcasts.
By doing so, you can gain some of their audience and grow both channels in a fun, unique way.
You should join other podcasts to reach a wider audience and grow the number of listeners, such as Apple podcasts and Google podcasts.
Utilize video
While podcasting is still mostly an audio-only industry, there are an increasing number of podcasts that are using video hosted on social media and YouTube.
This automatically increases your potential audience by getting your show on as many platforms as possible.
There is even a significant subsection of podcast lovers who exclusively watch video podcasts. With that in mind, it's a good idea to get into the habit of making video content alongside your podcasts.
Video has another cool benefit that could be the secret weapon you need. Social media sites are putting a huge focus on short videos as they try to catch up with the TikTok phenomenon.
By taking clips from your video podcast and uploading them to social media sites, you get more reach than the usual "new episode" post with just text or a static image.
Engage with your audience
Today's last, and arguably most important tip is to actually engage with your audience. The whole reason anyone tunes in to a podcast is because they like the host.
You could have the best content in the world, but if your host is unlikable or lacks any kind of flair, you'll be stuck with a failed attempt.
With that in mind, it's always good for the podcast host to interact with their audience, be it through the podcast itself or social media.
You don't need to dedicate hours upon hours to responding to social media comments.
Even just 10 – 15 minutes a day can help to create a meaningful connection between you and your audience. That connection is what will keep them coming back time and time again.
Your podcast content needs to bring value and be easy to listen to. It will be much easier to engage with your audience if your podcast is full of interesting content that people will want to talk about.
You will also get lots of new listeners and more importantly, most of them will be loyal listeners who will listen to every podcast episode and promote it to others without you asking them to do so.
Bonus tip: Be unique and expand your reach with Signals
Partnering with Signals is a simple but effective way of increasing your reach and growing your podcast audience.
We build one-of-a-kind marketing solutions for your content that help you break through the noise and ensure your personal brand is seen across dozens of social networks from TikTok to Twitch.
Check out the podcast promotion page for more info.
Get real engagement, all the time. Contact us today to see how!