Streaming on Twitch can be a very rewarding career choice, but in order to get more viewers, you've got to have a strategy in place.
Getting free Twitch followers is a great way to stand out from the crowd.
Over 90% of streamers are playing to less than 3 people at any one time, so here are 20 tricks to get free Twitch followers and viewers.
Read: How to grow on Twitch & get more followers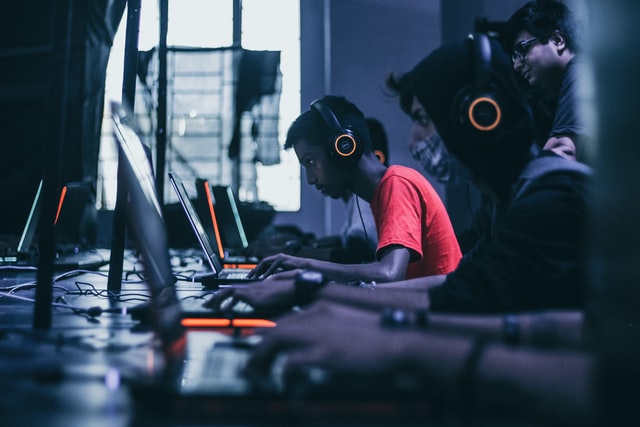 How to get free followers on Twitch?
1. Create YouTube videos
If you want to grow on Twitch you may need to build your fanbase on a different platform and divert them to your channel by creating videos of your gaming content.
2. Use a webcam
This will help followers connect with you better and can improve the quality of the retention rates.
You can stream from your mobile device if you don't have a webcam, but you make sure nobody calls you while you are streaming!
3. Use appealing overlays
Twitch overlays will make your channel more pleasing to the eye and professional, which will separate you from the other low-quality streamers.
4. Use interesting backgrounds
Many Twitch streamers use green screens to remove the background and replace it with something far more visually unique.
5. Use music
You can play royalty-free music on your stream. You've got to be very careful when it comes to copyrighted music.
Even though you purchased a song on iTunes doesn't mean you have the permission to play it. Just make sure you do it within the rules of Twitch.
6. Improve your production value
Adding or updating your equipment can improve your production value.
From different lighting methods to a separate microphone, your production values elevate the quality of your content by creating an important aesthetic value.
7. Talk to every viewer
One of the best ways to interact with your subscribers is to bring them into the conversation. Be welcoming, friendly, and keep them as part of your community.
8. Play games with the viewers
Another great way to interact with other streamers is where you can create community nights, where you can all play party games.
9. Get seen in the listings
You will need to attract people via the Twitch listings. You can do this by playing unsaturated games, having active chats, and sharing clips.
10. Try multistreaming
While you can't multi-stream if you are a Twitch affiliate some people have backed out of this status so they can grow on multiple platforms.
11. Find the best times to stream on Twitch
If you're trying to appeal to your audience, you've got to find the right times to stream based on the game you're playing.
If you stream when people are asleep, you are going to face less competition and potentially pick up a handful of new followers which you can build on.
12. Make creative titles
When people are scrolling through the listings, they will be more attracted to titles that stand out. Puns about the game you're playing or a target you're trying to reach can be simple ways to pique someone's interest.
Read: Twitch promotion on Discord
13. Have giveaways
It's not always a good idea when it comes to long-term growth, but you can use programs like Gleam to grow your Twitch and incentivize people to share your content through a giveaway.
14. Run polls
If you want to engage your viewers in real-time, polls can be an amazing way to help them feel part of your community.
15. Post fun events
Stepping away from your usual content by having milestone celebrations or birthdays and anniversaries can be a great way to generate a bit more hype around your channel.
16. Do a 24-hour stream
As daunting as this is, it can be an amazing tool to have more people come to you. Let viewers and everybody know ahead of time when you plan to do it and ask them to tell their friends.
17. Join a Twitch team
While most Twitch teams are not going to generate huge revenue, there are a couple that put on events and has that business acumen. Before you apply, make sure that your channel is as professional and polished as possible.
18. Charity stream
This can get a lot of interest and build a viewership that will be more excited to share your content. Pick a charity that you're passionate about rather than just jumping on a bandwagon.
19. Spruce up your Twitch bio
Branding is so important and filling out your Twitch bio with as much info about what you stream and when you stream it gives people an insight into your personality.
20. Create TikTok content
TikTok is a great way to create funny content. If you've got a unique personality, learning to master TikTok and making funny videos related to the content can stand out in people's minds.
Read: How to promote your Twitch stream
Should I buy Twitch followers?
Getting free Twitch followers is a standard procedure to upgrade your Twitch game. However, it depends if you get real Twitch followers or fake ones.
Your Twitch account should have a sufficient amount of followers to attract Twitch fans on its own. But it might be very helpful to gain followers
Buying too many Twitch followers might actually end up getting your Twitch channel banned. That's why you should go easy and buy a small number of Twitch followers. The same applies on strategies how to get free Twitch followers.
Read: Buy Twitch followers
The bottom line
Instead of starting everything at the same time, rather spend more time paying more attention to one specific channel / platform and monitor your progress. You can use your findings
I do not recommend you to go with any free Twitch followers generator. Buying Twitch followers might be a safer choice for you to get more Twitch followers.
Many Twitch followers will not even engage or interact with you, so no wonder why so many people want to get more free Twitch followers.