Are you looking to grow your online business?
If so, you're in the right place! In this article, we will provide you with six important tips for growing your online business, as well as some strategies for doing it for free.
But first, let's start with the basics.
What is an online business?
An online business is a type of business that operates primarily over the internet.
This means that the business sells products or services, communicates with customers, and conducts transactions online.
Another type of online business can be an affiliate. Affiliate marketing is a very popular way to make money online, without actually selling anything or having any inventory.
Affiliate marketing is a type of performance-based marketing in which a business pays one or more affiliates for each visitor or customer brought by the affiliate's own marketing efforts.
The merchant (also called a "retailer" or "brand"), the network (which has offers for the affiliate to choose from and handles payments), the publisher (also called a "affiliate"), and the customer are the four main players in the industry.
The market has become so complicated that it needs a second level of players, like affiliate management agencies, super-affiliates, and third-party vendors who specialize in certain areas.
In simple terms, affiliate marketing is when a business pays a commission to an outside website (the affiliate) for bringing in traffic or sales.
For example, if a clothing store has an affiliate program, a fashion blogger could promote the store's products on their own blog.
If a sale is made because of the blogger's promotion, the store would pay the blogger a commission for the sale.
I recommend joining several affiliate partners programs and start bringing traffic to their websites. Create a simple affiliate management system, where you can efficiently track your affiliate links.
Skilled affiliate marketers are making over $5k-$10k a month. They just invest in digital marketing and use the right channels to drive traffic.
Some startups might not have an affiliate program. Reach out to them anyways with a proposal and they may give you a referral link that you can use to drive traffic to their website.
Online businesses have become increasingly popular in recent years, thanks to the convenience and accessibility of the internet.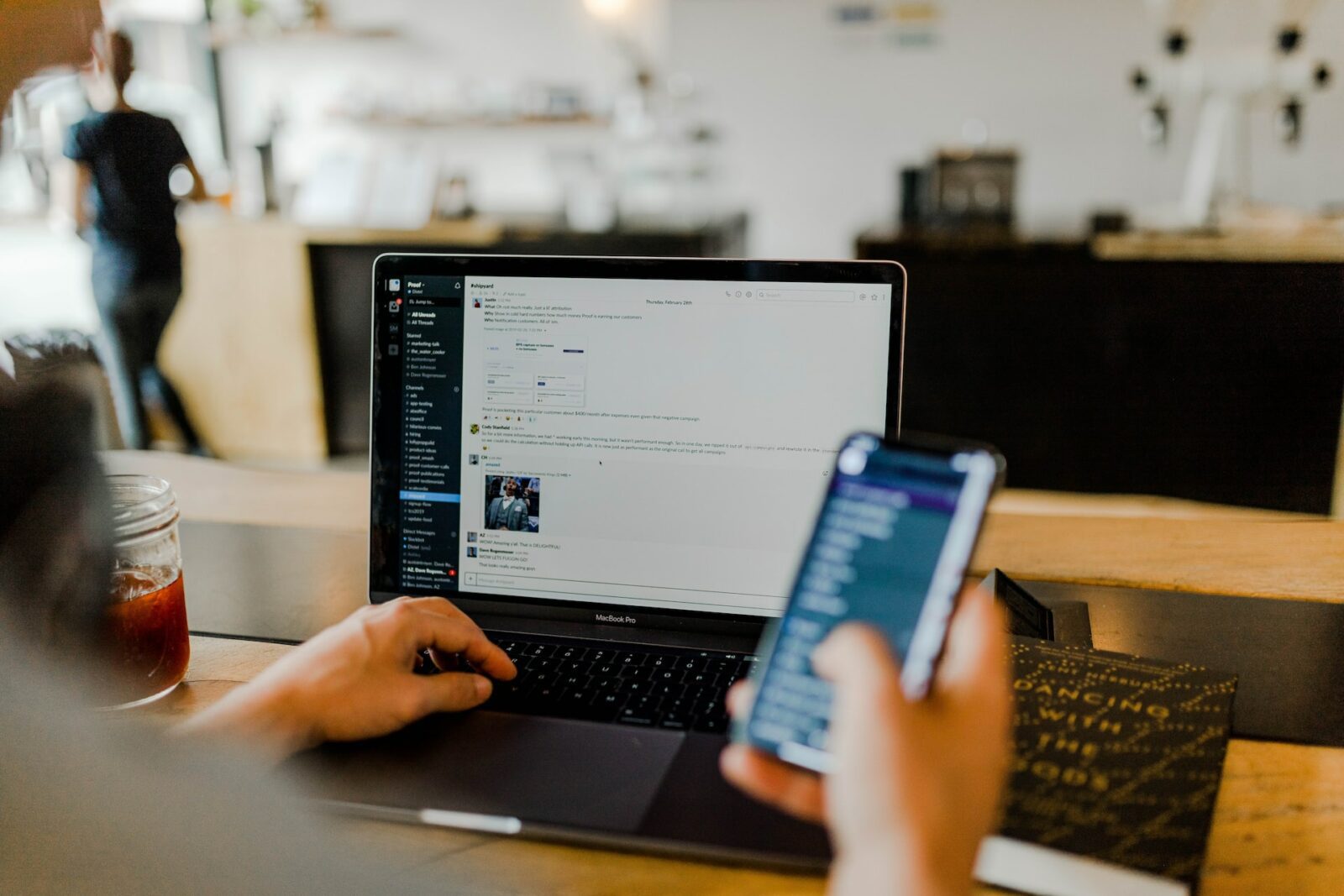 Can anyone establish an online business?
Yes! Anyone with a good idea, a willingness to learn, and some determination can establish an online business.
While it may take some effort and investment to get your business off the ground, the rewards can be significant.
With the right approach, you can grow your online business into a successful and profitable venture.
Now, let's move on to the six important tips for growing your online business.
Read: How to start a digital marketing business
6 important tips to grow your business online
1 – Identify your target market
Before you can grow your online business, you need to know who your target market is. This means identifying the specific group of people who are most likely to be interested in your products or services.
By understanding your target market, you can tailor your marketing efforts and create offers that are most likely to appeal to them.
2 – Create a strong brand
Your brand is the unique identity of your business, and it's an important factor in attracting and retaining customers.
To create a strong brand, you need to develop a clear and consistent message, as well as a professional and appealing visual identity.
This will help you to stand out from the competition and build trust and credibility with potential customers.
3 – Optimize your website
Your website is the online storefront for your business, and it's crucial to have a well-designed and user-friendly website.
This means ensuring that your website loads quickly, is mobile-friendly, and provides a seamless user experience.
Additionally, you should optimize your website for search engines by incorporating relevant keywords and providing clear and compelling calls-to-action (CTAs) throughout the website.
4 – Use social media effectively
Social media is a powerful tool for growing your online business, as it allows you to connect with potential customers and build a community around your brand.
To use social media effectively, you need to consistently post engaging and relevant content, as well as interact with your followers and respond to their comments and questions.
This will help to build trust and engagement with your audience, ultimately leading to more conversions and sales.
5 – Offer excellent customer service
Providing excellent customer service is essential for growing your online business.
This means responding promptly to customer inquiries and complaints, as well as offering support and assistance throughout the customer journey.
By providing excellent customer service, you can build trust and loyalty with your customers, leading to more repeat business and positive word-of-mouth recommendations.
6 – Continuously improve and innovate
Finally, to grow your online business, you need to continuously improve and innovate.
This means regularly reviewing and updating your products or services, as well as experimenting with new marketing strategies and techniques.
By staying on top of industry trends and customer needs, you can stay ahead of the competition and keep your business growing and thriving.
But what if you want to grow your online business for free?
Read: Social media KPIs you should be tracking
How to grow an online business for free?
While it's true that growing a business often requires some investment, there are some strategies you can use to grow your online business for free.
It can be hard to grow an online business without spending any money, but there are things you can do to help your business do well without spending any money.
Here are some thoughts:
Use the connections and networks you already have. Tell your friends, family members, and coworkers about your business. Ask them to tell other people who might be interested in what you have to offer.
Use social media to get the word out about your business. Set up social media accounts for your business and use them to share information about your products and services, as well as news and special offers.
Content marketing is worth the money. Make blog posts, videos, and infographics that are interesting, informative, and of high quality to attract and keep customers. You can also share this content on social media sites and other websites to reach more people. You should also incorporate email marketing and run email marketing campaigns to bring more users into your funnel.
Search engine optimization. This is a next step of content marketing. Search engine optimization (SEO) is optimizing your content to rank well on search engines such as Google. Organic traffic will be coming to your website regularly and you will notice a spike in overall website traffic after a while, as well as number of sales. SEO + content marketing is in every startup's marketing strategy, so you should consider doing it too.
Give your customers the best service you can. Quickly and professionally answer customer questions and complaints. This will help your customers trust and stick with you, and it will make them more likely to tell other people about your business.
Think about giving away free trials or samples of your goods or services. This can help show potential customers what you have to offer and persuade them to buy something.
By using these tips, you can help your online business grow without spending any money and get more customers without spending any money.
It may take time and work, but it can be a great way to build your business without spending a lot of money.
Read: Social media engagement
Take advantage of social media platforms
Social media marketing is a very powerful way to grow your business. Youcan quite easily reach your target audience either organically or by running ads.
Your business's online presence will determine if you make it or break it. Including social media marketing into your marketing strategy will definitely increase chances to boost your online sales.
It's not a rocket science. Choose 1-3 social media platforms to start with, where it might be most relevant to reach your target audience and start with those platforms. You can always scale it up as you go.
Most online businesses start with Instagram. They create Instagram business account to start managing their content and potentially run ads.
Facebook is still one of the popular social media networks. Join a relevant Facebook group and try interacting with group members there. You will be surprised how many people are looking exactly for who you offer.
Read: How to grow your social media audience
Is it difficult to open up an online store?
Creating websites is very easy these days. There are many platforms out there that are built to make your life easier and creating websites as smooth as it can get.
Some of the popular website builders are WordPress, Shopify, Webflow, Wix, Squarespace and many more.
I built my own self hosted WordPress website with 20 pages in 3 days (working full-time). However, I had some experience with it before, so it might take you more time if you are totally new to this.
I recommend reading this article before creating a web hosting account.
Read: What is a social media community
Summary
Having a successful online business is a dream of millions of people. It's a dream of mine as well hah. Luckily for us, there is tons of useful information online and it has never been easier to start an online business.
In addition to researching the ins and outs of having an online business, search for some free marketing tools to help you scale up faster, without any big unnecessary investments.
You should also consider signing up for a universal tool/platform for a small monthly subscription fee if they offer lots of potions and possibilities that will hugely benefit you in the long run.
I also recommend creating a Google My Business profile. You will get free advertising credits that you can use to promote your business online, increase your chances to get found by potential customers and get insights on people interacting with your business.
Today's online world is all about online shopping, so take advantage of it asap.