This article provides you with step-by-step instructions on how to delete your Reddit account.
Reddit may not be talked about much in social platforms like Facebook or Twitter, but it definitely nails it as one of the most popular social news and discussion websites ever.
It didn't exactly have a great launch with lots of obstacles in its early days. Nevertheless, it ranks 5th in most visited sites in the United States and 17th in the world at the time of writing.
With a distinctive classification of communities called subreddits, Reddit surely has something for everyone.
Unfortunately, even with all of its cool features and design, some users are either overwhelmed or just simply dislike it because of their own personal preferences.
In short, not everyone is able to appreciate Reddit for what it is – which is totally understandable.
Read: How to make money on Reddit
What is Reddit Account?
Reddit account is a user profile on the social news platform Reddit. The account allows you to post, comment, upvote and downvote news throughout the platform, as well as gain trust by doing so.
Read: Most downvoted Reddit comments
How to delete a Reddit account permanently?
1. Log in to your Reddit account
You will need to be logged into your Reddit account in order to remove it.
If you forgot your log in details, you will first need to recover your account.
Admins will not be able to help delete an account you don't have access to.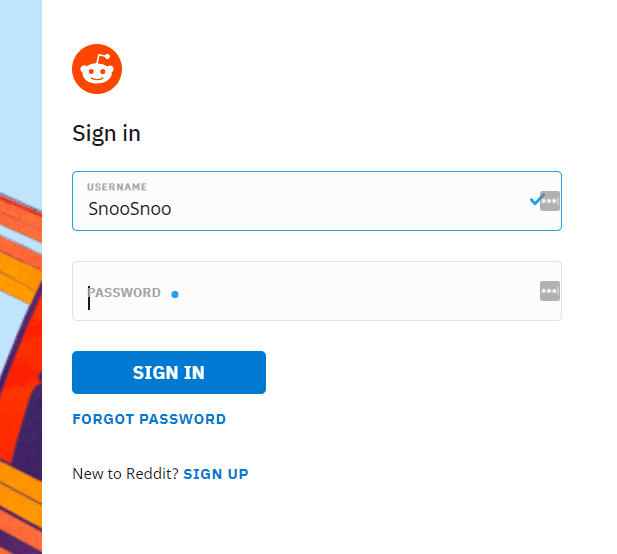 2. Go to user settings
The first 2 images below show options for the new Reddit user interface (UI).
First, click on "User Settings" from the drop down located at the right hand side of the page.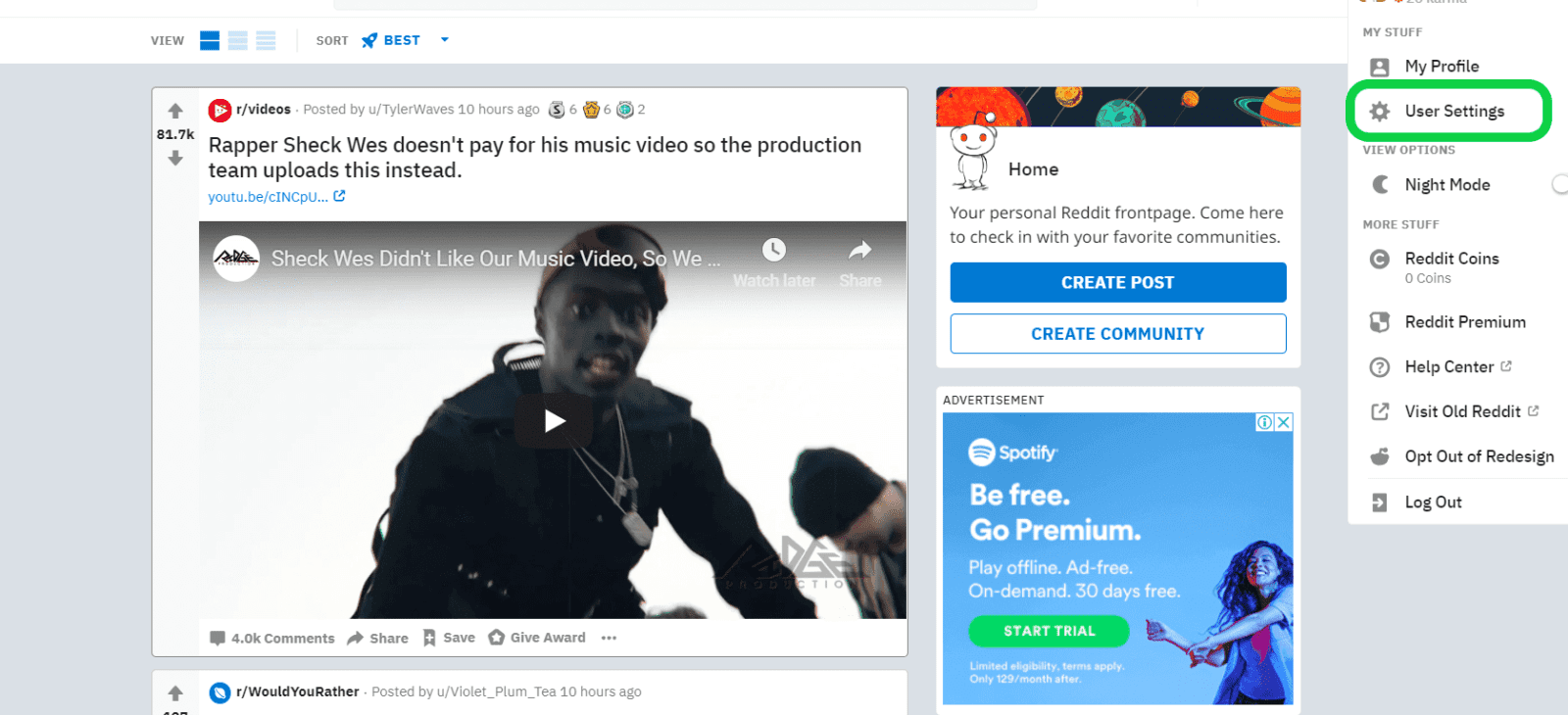 Then, scroll down to the very bottom.
You should see a "DEACTIVATE ACCOUNT" option in red text.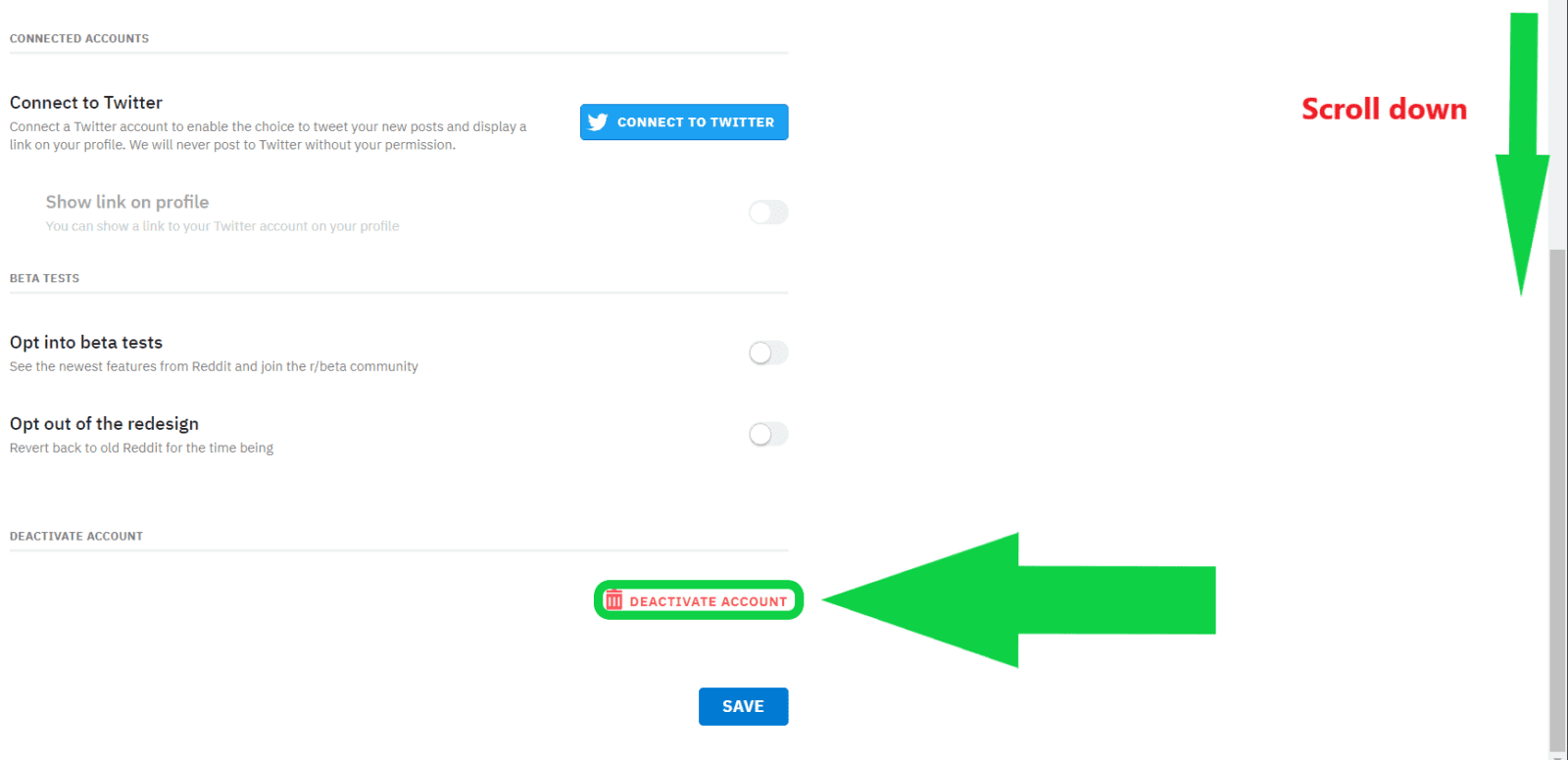 Note: For old the UI, click on "preferences" found beside your name on the upper right hand side.
From preferences you will then see a "deactivate" tab which you should click on.
Old UI image: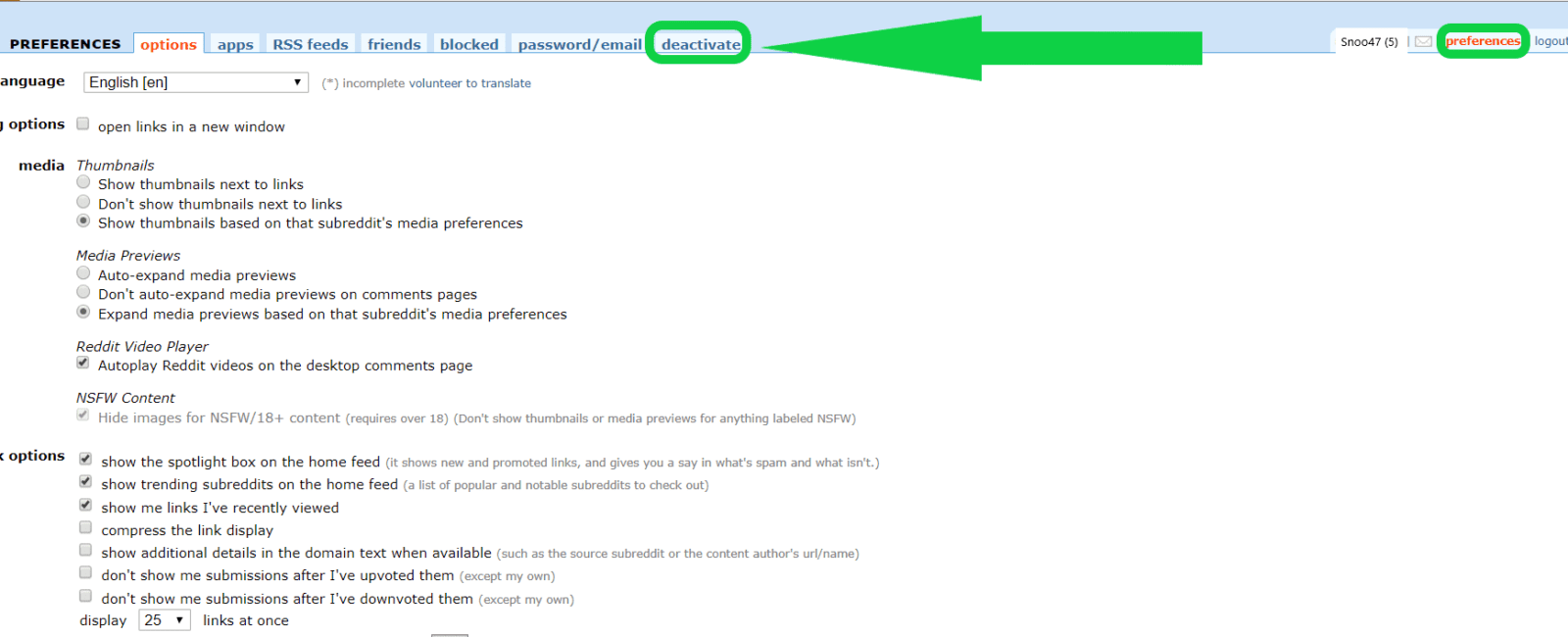 3. Key in your log in details to confirm the action
(Optional) You can write some constructive feedback as to why you have decided to deactivate your account. Doing so will let admins know what needs to be improved.
Type in your login details again to confirm that you are authorizing this action.
Check the box that says "I understand that deactivated accounts are not recoverable"
Click on the "DEACTIVATE" button.
Note: The photo below is for the new UI, but the old one looks very much similar.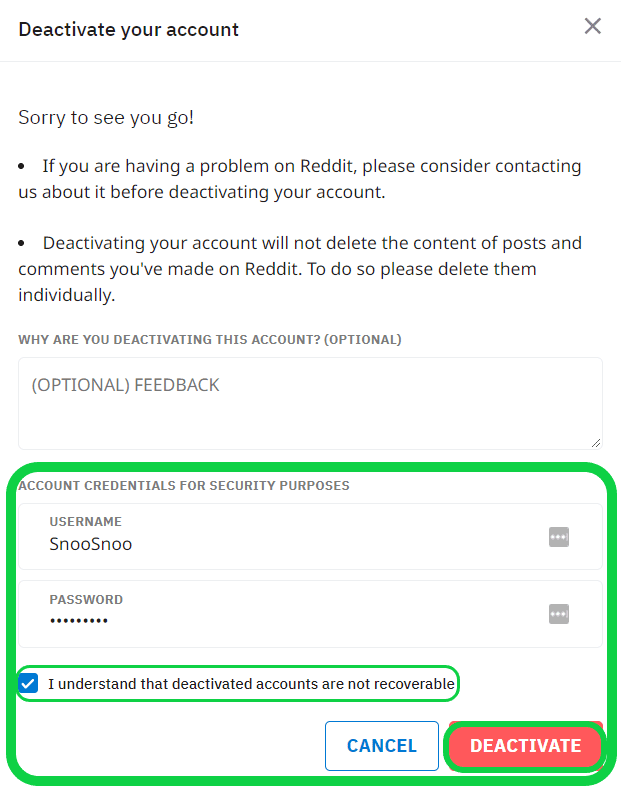 4. Final confirmation
You will see one final "are you sure" message in case you want to back out at the last minute.

Important notes:
After Reddit removes your account, you will not be able to use the same username when creating a new one. Recycling usernames is not allowed.
You can no longer get the account back even if you claim that it was accidentally deleted. Remember the checkbox, "I understand that deactivated accounts are not recoverable" you agreed to?
Read: What is Reddit gold
Be absolutely sure that you want your Reddit account deleted and never make decisions when you're emotional. If you're upset about something, it's sometimes best to take a step back and clear your mind before making any kind of decision.
Not sure if you should delete Reddit account permanently or just to deactivate account? Well, I would recommend selling your account instead of just deactivating it, as you can earn a few extra bucks from it.
If you are a 100% sure you want to delete your reddit account, then this guide will show you exactly how to permanently delete your Reddit account information.
In case you delete your reddit account accidentally, you can always buy a Reddit account with high karma. This will save you lots of time and make your "new account" verified right away.
Read: How to upvote on Reddit
Conclusion
Deleting an account is very easy to do as shown on the steps above. Whatever your reason may be, know that creating a Reddit account is just as easy as deleting it.
You might consider selling your Reddit account, as you can earn a few extra bucks on the side, for basically nothing. Lots of agencies would love to buy it from you and it's a win-win situation.
However, no matter if you delete your Reddit account or not, we hope you found this guide helpful.
Reddit is not your typical social platform. There is no need to build your profile or social network (e.g adding friends, posting your everyday life on your wall for other people to see, posting pictures of your food).
All that matters in Reddit is your content. Helpful and relevant content are the only things fellow members want from you.
That being said, Reddit will always be here in case you long for some cute pet photos or would like to participate in hilarious discussions. There is no shame in beginning again.