Are you ready to be a star? 23% of Americans use Twitter, making it one of the fastest-growing social media platforms.
If you attract just a few thousand followers, you can make a name for yourself. However, that's easier said than done.
You need to understand how to get famous on Twitter before you start sending tweets out into the world.
How does Twitter work? What do the most popular accounts do? How can you keep your followers interested in your content over time?
Answer these questions and you can become a social influencer in no time. Here is your quick guide.
Understand how Twitter works
Twitter has a few qualities that make it stand out from other social media platforms.
Posts are limited to 280 characters, and you cannot edit them once you've sent them out.
You can post videos that are up to 140 seconds long, and you can post as many photos as you want.
This means that your content must be short and snappy. You can send out a series of tweets telling a story, but many users will only click on the first one.
Read: Twitter marketing services to grow your brand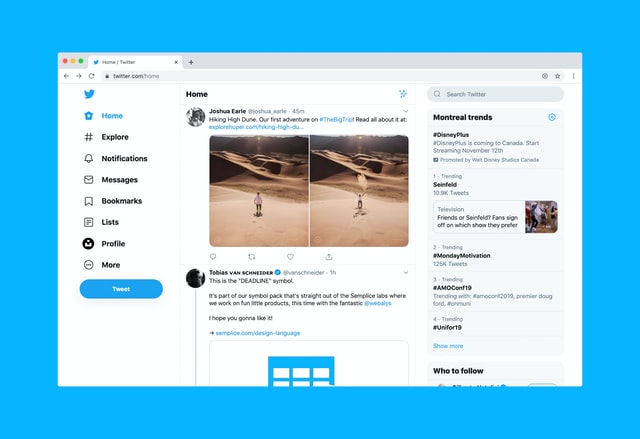 Share visuals
You should use your unlimited ability to share photos to your advantage. Many Twitter users scroll through their feeds quickly, which means they may not read any texts.
At least half of your content should be visuals. You can share photographs, macros, and infographics.
You should make most of the visuals you share. This lets you avoid copyright disputes and develop your skills as a photographer and graphic designer.
You can write short captions for your posts, but don't approach the 280-character limit.
Write a few words that summarize the photograph or link to the source of the image. You can also attach a hashtag to get other people's attention.
Try to engage in storytelling through social media. Share a few related posts that convey a message or describe someone's story.
Read: How to make money on Twitter
Share good content from other people
You should share a post from someone else at least once a day. This lets you make a connection to that user and get some of their followers for yourself.
However, you shouldn't share all of one user's posts, as this can make you seem desperate for their attention. Try sharing from a few different users, each with more than 25,000 followers.
The content you share should be of very high quality. The photographs should be in high definition, and the text should share stories and perspectives that you cannot offer.
Don't share someone's post just to share something on your feed or to figure out how to get followers on Twitter.
If you are making videos, make sure you create captions so people who have difficulty hearing can understand your content.
You will need to create SubRip files for each video, so talk to a computer programmer so you can do this properly.
Be funny
Any type of account can be successful on Twitter. But most guides on how to get more followers on Twitter advise you to be funny.
Most people use Twitter to relax after work or personal responsibilities and they want to see lighthearted material.
Share jokes, funny images, and other content you think is funny. Branch out into different kinds of comedy, engaging in wordplay, physical comedy, and dark humor.
Try to avoid controversial subjects, though joking about current topics can help you develop a reputation for yourself.
Be current
Your tweet has a very short life span. Depending on the type of content you share, it may appear in someone's feed for only 20 minutes.
This means you have to produce content that matters to people's lives at that moment. Don't write about old subjects that have fallen away from public attention.
Talk about issues in the current news cycle, be aware of the news, and move on to the next popular subject.
Respond to your followers
It's not enough to figure out how to get Twitter followers. You have to figure out how to keep your Twitter followers from unfollowing you.
An easy way to retain your Twitter followers is to talk to them.
When someone sends you a message or attaches your name to their tweet, you should reply to them and answer their question.
You can run polls to assess what your followers think and adjust your content based on their responses.
If they want you to talk about a particular issue, you should post content about that issue.
Post consistently
You should be posting on Twitter multiple times a day. This helps you overcome the short lifespan of tweets and gets you on people's feeds.
However, it is better to post no content than to post low-quality content.
Try to find a few opportunities every day to share beautiful photographs and interesting thoughts.
Use effective hashtags
Hashtags help you organize your content and get attention from people outside your follower base.
Yet spamming hashtags on your posts can make you seem desperate for recognition and clutter your feed.
Attach no more than three hashtags per post. Try to pick one popular hashtag and one less popular hashtag so you can court different users.
Be specific with the hashtags you use. #beauty has thousands of posts on it, and it will be hard for you to stand out. #quickbeautytips has fewer posts, but your content can be more visible in the hashtag.
Understand how to get famous on Twitter
Figuring out how to get famous on Twitter means learning about a lot of different things. Twitter is all about fast and fun content, especially visuals.
Try to churn out many posts a day, including funny photographs and puns. To gain followers on Twitter, you need to have a cool Twitter profile.
You need to stand out from other users if you want to get famous. Add an interesting profile picture, cover banner and profile info. Your Twitter profile needs to shine!
Followers tweeting profanity might get some popularity but it doesn't have to be positive. If you want to get more Twitter followers, you should aim for positive popularity and some "on the edge" strategies to get enough traction but not to be offensive.
Remember aiming to increase Twitter followers and retain followers at the same time. Popular tweets will get you there even with a few followers at the very beginning.
Twitter chats are also great to stay in touch with your following. However, you should also be active on Twitter threads
The bottom line
Do not spam your followers with low-quality content or content taken from someone else. Find opportunities to share other people's content and use interesting hashtags.
Respond to your followers so they feel you are engaged with them.
Get resources to develop your Twitter account. Signals works with creatives to build their social media followers. Start an account today.
Check out our Twitter growth and Twitter promotion services.